LED Floating Candles create a warm and romantic ambiance when you do a spa.
Waterproof Flameless Floating Tealights
Our LED Floating Candles work through the conduction of the water!  As soon as they touch the water they come on and go off when they are taken out. And the light color of our LED Candles are warm white (much like sunshine) and warm yellow (much like candle). The LED floating tealight candles are suitable for decorating various events, creating a romantic and relaxing ambiance; perfect addition for both indoor and outdoor occasions, eg; in spa, bathroom, restaurants, wedding, party, and festival decorations no fire hazards or burning risks, no hot and dirty wax to deal with; safe for families with pet or young child.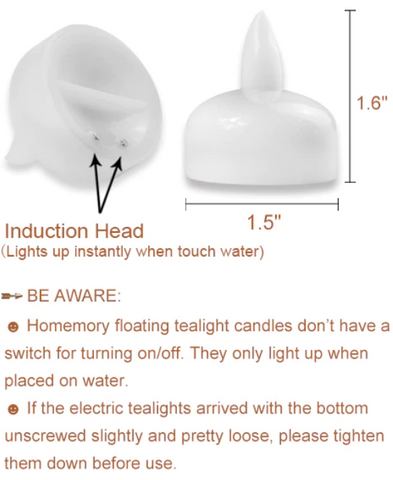 Tips:  Create a comfortable and warm environment for yourself. When you're in the shower or spa, you can use our LED flameless floating candles. According to your own preferences to decorate, you can directly put it in the bathtub, or you can prepare several glass bottles filled with water, put our floating candle in it, and put it in the position you think is appropriate. Finally, you can sprinkle some petals (e.g. roses).